Jim on Chisel Glacier
Expedition Members
Suspect No. : 00003154

Suspect No. : 00002855

Name and DOB

Richard Peter Fawley Pash, Mr; 5 May 1973

Name and DOB

Daniel John Heywood, Mr; 14 Jan 1977

Sex

Male

Sex

Male

Address

In exile abroad for a year, avoiding threats of GBH from rejected expedition members.

Address

A large white van, somewhere on the M1.

Occupation

Being irritatingly optimistic and talking in a posh voice.

Occupation

Digging large holes in the ground, hanging out on the Stafford mainline at 3am, wandering around in strange fields in Ireland or just kicking arse on his new bike.

Distinguishing Marks

Found sewn-into Red bottomed helly hansons, droopy bottomed after their umpteenth exped

Distinguishing Marks

Leaves trails of rubber across the snake pass. A large smile when in bed with members of the same sex

Medical History

A delicate flower, he is prone to vomiting when looking for airdrop boxes. Driven to chanting "must lead, must lead" during bouts of insanity.

Medical History

Likes fags

Pastimes

Mistaken love of wet chimneys and wedging himself into offwidths

Pastimes

Ever in search of the 'younger female', Dan can be found hanging out at school discos and in the 'pre-teens' section of Miss Selfridge. Went back to freshers week the year after he left uni. Enjoys toe sucking (see entry for Miss N. Faulks)

Criminal Record

A history of bribery and corruption, including embezzling expedition funds. Suspected attempted manslaughter when leading expedition members over unsafe ground on skis.

Criminal Record

Borders police would like to contact Mr Heywood concerning a photograph of him taken on the A9
Suspect No. : 00001343

Suspect No. : 00000790

Name and DOB

James Robert Thacker, Mr; 17 Dec 1978

Name and DOB

Rupert Finn, Mr; 23 Nov 1972

Sex

Male

Sex

Gop

Address

On the crux of some desperate E6 at Curbar or drinking coffee in the Edale MRT HQ.

Address

Members of the Inland Revenue and The Australian Tax authorities should approach his accountants in Bermuda.

Occupation

Consulting editor for all Peak District climbing guides, Mr Thacker has an encyclopaedic knowledge of peak routes, in move by move detail. Like Mr D Heywood, has a keen eye for pre-pubescent women (the same ones, in fact).

Occupation

Tax avoidance

Distinguishing Marks

Always carries a pager and a neck brace. Particularly attached to an hat with a unhappy looking penguin on and an orange Montane jacket that makes him look like a Martian.

Distinguishing Marks

Protected by a specially developed layer of wax called gop, which sheds water and bodily fluids. His sideburns are also of note. Owner of the bluntest pair of ice axes in the world.

Medical History

Has seen enough dead bodies and mutilated climbers to fill the extras list in 'Chainsaw Massacre'. Consequently has more sense than the rest of the group put together.

Medical History

Inhuman determination and reserves of energy when leading in appalling snow conditions and when scraping dissolved pizza from the bottom of an oven. Unfailing cheerfulness at awkward belays on uncertain, protracted routes. Was pronounced a loony following his hand traverse on Citadel.

Pastimes

Appearing in photo shoots and on television in a MR jacket, saving the lives of Icelandic skaters. Nursing black-eyes received from Mr D Heywood

Pastimes

Collects photos from Australia titled "me in x with my arm around 'bikini a' and 'bikini b', thinking how I would soon be getting my end away"

Criminal Record

Sheffield University would like to contact Mr Thacker concerning absence from university during term time, particularly following fresh snowfall in Fort William.

Criminal Record

Several convictions for indecent exposure
Suspect No. : 00009873

Suspect No. : 00006577

Name and DOB

Nicola Faulks, Miss; 6 March 1976

Name and DOB

Thomas Bruce Spreyer, Mr; 6 Dec 1979

Sex

Female

Sex

Male

Address

In a damp bog in the lake district, accompanied by a group of wailing school children

Address

Hanging from a skyhook in Yosemite

Occupation

Being under-paid but living in a very nice part of the world.

Occupation

Professional good guy and dark horse.

Distinguishing Marks

Blonde curls matted with factor 50 suncream. Normally found with a badly melted thermos pint mug in hand

Distinguishing Marks

A shock of curly hair slowly matting into dreadlocks... A master of understatement. 'A bit tricky' means 'extremely hair-raising indeed', 'quite' means 'outrageous' etc. Unflappable in steep rocky places. The most sorted 21-year-old you have ever met. Comes with Vintage Landrover.

Medical History

A chronic heel-rot problem possibly caught from a toe-sucking incident in Wales

Medical History

Stretched on a rack at an early age, his now awesome height and reach can make seconding his line tricky…

Pastimes

Legendary moaning followed by bouts of effusive superlatives, poetry and happy warbling when climbing or skiing.

Pastimes

Pretend innocent: seems to get uptight during gross conversations but occasionally shows glimpses of his twisted mind…

Literary heavyweight: likes to relax with a bit of Hardy, Rousseau or Satre

Criminal Record

Ibuprofen addict. Suspected of stealing 200 for her fix during the last week of the expedition. Escaped several jail sentences for disorderly behaviour in USA by dubious means

Criminal Record

Tom??
Suspect No. : 00002764

Suspect No. : 00001188

Name and DOB

Lucy Jane Pash, Mrs; 21 Jan 1973

Name and DOB

Pippa Louise Whitehouse, Miss; 4 Feb 1978

Sex

Female

Sex

Female, but has a few strange ideas in this department

Address

Cycling the Peruvian Andes, mapping coral reef in the Philippines, off-piste in Val d'Isere or riding motorbikes in Pakistan (hard life…)

Address

Lives only on overhanging ground

Occupation

Pulking-Olympian and expedition peace-maker

Occupation

Maintaining Olympic-level fitness in about thirty sports

Distinguishing Marks

Accompanied by a large gaffer-taped mug of dripping tea. Sunburnt nose

Distinguishing Marks

Bigger biceps and more balls than the men on the expedition combined. Fond of factor 50 suncream. Ultra-hard, no-compromise attitude is expected to result in total body failure by age 30.

Medical History

Recently recovered from depression and trauma after missing last year's expedition

Medical History

Insanely clever (i.e. clever and mad), one of the few people to survive Cambridge Maths part III

Pastimes

Female pint-downing champion of the world. Also likes drinking-in summit atmospheres and Arctic scenery

Pastimes

Likes climbing where there are no holds and attempting to share Rupert's tent.

Criminal Record

Suspected of sleeping her way into favour with the expedition leader.

Criminal Record

Suspected murder and mutilation of ex-boyfriend, after he lent her crappy thermarest and sleeping bag for expedition. Possible extortion charge for being able to extract large sums of money from parents at very short notice.
Training
Although plagued by bad weather, we had a great time getting ready for Greenland.
Torridon, January 00
A week winter climbing from the Ling Hut in Torridon over the millennium sounded like a brilliant idea, but the weather thought otherwise… Warm driving rain soon melted all the routes out of condition, however walking the ridge of Liaitach in winter conditions was great. Other forms of entertainment were needed… Pizza night saw our budding Pizza chef (Ruperro Finnazzi) dissolve 5 pizzas all over the oven. Our New Years Eve feast had 5 courses, rustled-up in the gaslight of the kitchen. Drinking games (Hoe down! Cowgirl!), a naked dip at midnight and Danny with peppers up his nose then followed.
Ogwen Valley, February 00
Where I left the hut keys at home and remembered on the M54 at Wolverhampton (where the custodian lives!). Quite a wild weekend this one which left me wondering who I was going to Greenland with! A bad forecast for Saturday, so Friday night we chatted around the fire. Things got exciting at 3am following the second bottle of whisky and an incident involving Nic and Danny's toes… Drizzle on Saturday meant classic Vdiffs on Tryfan and driving rain on Sunday was perfect for running on trails North of Helyg.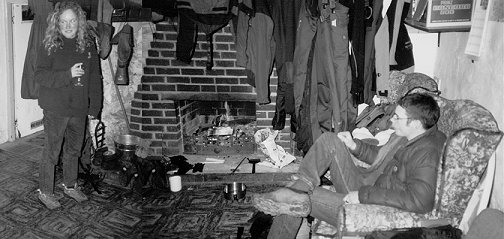 Bethesda, February 00
A cold snap bought us back to Snowdonia for winter climbing in the Glidders…. (means got very wet and ended up in Pete's eats). Colder than it ever got in Greenland: we managed to get the hut warm with the fire and all the rings and the oven on in the kitchen.
Jordan, April 00
A brilliant fortnight climbing in Wadi Rum. Huge sandstone faces with some crazy exposure, and wonderful Bedouin routes twisting through improbable-looking canyons and gullies. Lots of great multipitch climbing and lots of very hot sun and sand. A Greenland '99 reunion where Rupert and Sarah got 'stuck' overnight together on Jewel Rum…
Glossop, May 00
The first packing weekend, where we filled Steve's garage with food and bubblewrap and Nic's mum drove down from Northumberland in her Landrover to deliver all our free Bidvest food (The 'Top Mum of the Year' award was presented later - a bottle of Drambuie). We discovered we had no pudding except Angel delight, so Dan made lumpy chocolate custard from the powder to check if it worked. On the Friday we made it up in the nick of time from London to eat in Glossop's premier eating establishment (the curry pub). Where I discovered how tall Tom is when Danny, Jim and I went climbing with him on Sunday.
The second packing weekend where Danny decided to sleep in Rupert's bed? We discovered we were wrapping our fish in bubblewrap from Dan's Granddad's conservatory. It was lying on this bubblewrap that he had passed away a year before. (Wrapped in this bubblewrap 30% of our fuel bottles broke…)
Stanstead, June 00
Where Pippa met everyone for the first time!
For the third expedition in a row we were delighted that Chris Bonington agreed to be our patron. Apart from our admiration for him and his achievements as a mountaineer, he was a natural choice as a patron since he led the only other expedition that has visited the Chisel Glacier, in 1993. His team climbed some impressive routes in the area, notably first ascents of Chisel, Needle and the Ivory Tower. He was 65 when he made the first ascent of the Needle, a striking tower of rock that involved 24 hours of sustained climbing to E1. We looked in respect at the sheer West face of the needle from our base on the Chisel Glacier…
However his team were not successful on all their routes. Rob Ferguson kindly showed me slides from their expedition including unfinished routes on the Pulpit, Steeple and Citadel; all three looked like stunning peaks. Our interest was fuelled further in 1999 when we climbed around the Hedgehog glacier: Citadel is one of the highest mountains in the area, and we could see its majestic silhouette from nearly every peak we climbed.
After various bets with 1999 exped. team members I'm pleased to say we climbed all three during the trip this year, and fine climbs they were too.
Diary
Lucy Pash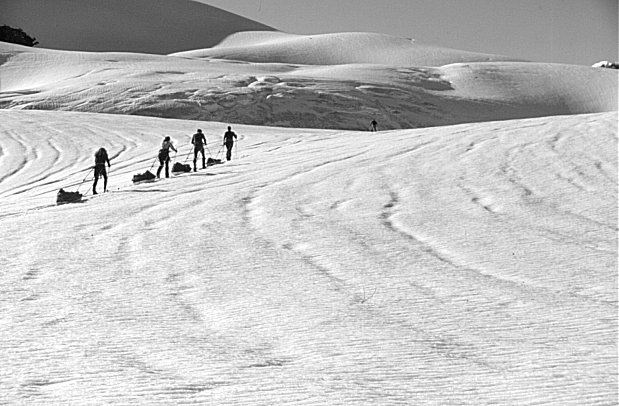 Pulking up Porpoise Glacier
Arriving
After months of planning, weeks of packing and days of extreme excitement, it was great to actually be on our way to Greenland. We left Iceland and its characteristic shroud of cloud after a fraught weighing session, where we discovered we were over-weight and over-budget. Concerns over the extra airdrop soon evaporated as we flew through the crystal clear skies and stunning mountain scenery of Greenland. Richard, Rupert and Danny pawed at the window, eager to be back on Lemon territory. "There's the Bishop's Finger" drooled Rupes, pointing out the spiky pinnacle that we'd all seen in so many photos back at home.
We landed on the Cocker Glacier, at least 10km away from the airdrop site. Luckily most of us were blissfully unaware of just how long it would take us to get to the airdrop site and how unprepared we were for the ski tour, and instead drank in the magnificent landscape and the sense of just-us-ness instead of worrying about our situation. For several, it was their first time on skis…there was much effing and blinding as we negotiated the steep crevasse field (our cunning short-cut via the Porpoise Glacier to Chisel Glacier) but everyone coped splendidly. Hours of skiing later we were exhausted…there's only so much energy a single Mars Bar and a pear half has, and we were down to the dregs of our water. Richard's characteristic optimism showed signs of wavering as what little was left in his stomach was ejected. Rupes eventually spotted the boxes and we beetled about in a tired kind of way dragging them to one spot. There were scary moments – like discovering that a third of the fuel bottles had smashed, and a box of sleeping bags had gone missing temporarily– but we were all too tired to worry that much, and crawled into our tents after a meal and much needed drink.
The first day was an epic to say the least; things became infinitely better after this initial episode. The Lemon Mountains offered us endless opportunities on rock, ice, snow and combinations of the three. We knuckled down to climbing as soon as we'd set up camp…so much to do in so little time! Our first peak was an easy snow-plod that we climbed as a group; from then on we split into climbing pairs and climbed a variety of routes, to suit our abilities and moods. We were very lucky with fantastic weather for much of the expedition – this enabled us to climb most days and/or nights.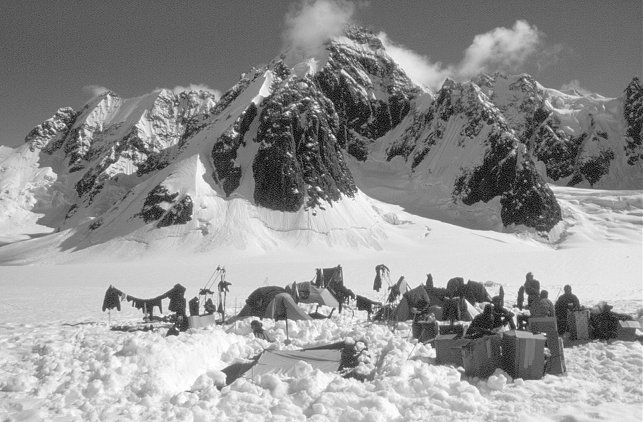 Above: Chisel Glacier base camp. Below: Rupert and Anna Kournikova hit it off in his tent
I think that one of the group's main achievements was the ascent of the Steeple, an impressive looking mountain at the head of Sarah Glacier, and one which Bonington had attempted in his '93 expedition to the Lemons. The route involved a long climb up a steep ice gully, including sections of grade V ice. On this, and a couple of other routes, the group came across remnants of Bonington's expedition.
This, and the occasional Trans-Atlantic flight, was the only evidence that anybody else in the world existed. We worked well as an isolated group, although sparks flew a couple of times – not surprising when strong characters live in close proximity with one another. The continuous mess tent 'routes climbed and girls shagged in the Peaks' conversations became a bit wearing for those of us that couldn't contribute, but the banter added to the fun.
We soon adapted to living on snow. The lack-of-fuel situation wasn't a problem at all – we were able to melt large quantities of snow in barrels with sunlight, and even ended up burning off fuel at the end of the trip. Beanfeasts (and their after-effects) became a bit trying in the last couple of weeks – I really wouldn't recommend skiing behind someone who has had Oriental. Corned Beef (a.k.a. Corned Dog) Hash a la Finn was regular treat (or should that be infliction?). There were several schools of thought on loo design – Rupert's main concern in this matter was whether he would have the opportunity to flash his arse to the rest of us.
Very occasionally, we were tent-bound due to poor weather. Luckily, these tent-bound days were rare enough not to resort to reading the back of Mars Bars wrappers…other reading material lasted the course of the expedition. Dan and Rupert would entertain each other and the rest of us; the noises emanating from their tent sometimes didn't leave much to the imagination!
Towards the end of my time in the Lemons I looked forward to the ski tour to the Lindberghs with a mixture of dread and excitement. Pulling a heavy load 40km uphill didn't sound like a whole lot of fun, but getting to a completely new area under our own steam somehow appealed. In reality it was very hard work and not much of fun, partly due to conditions. On the first day/night, we encountered some nightmarish hidden crevasses – they didn't follow normal crevasse rules and criss-crossed the glacier in random lines, making it difficult for the person breaking trail to find a route through. Rupes disappeared up to his waist rather worryingly a couple of times.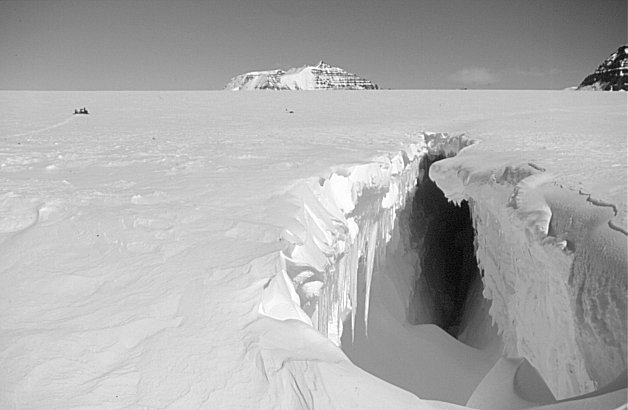 Above: evil Lindbergh crevasse Below: frozen glove
Richard took the helm when things got really bad – the holes were so big and close together, and the snow bridges were so loose after days of warm, damp weather, that we needed to rope up. Our pulks would frequently smash through what snow bridges existed, making life very difficult for the people at the back. After endless crevasse crossings and backtracking to find the best route, we came to a relatively safe place to camp, ate and dozed for 12 hours.
| | |
| --- | --- |
| There was more of the same the next day – the crevasses weren't quite as formidable but the weather conditions were terrible…high cloud became low cloud which in turn became fog and driving snow. For much of the day we were navigating on a compass bearing in a whiteout while dodging holes. Towards the end of the day, the snow was really hampering our progress, balling up on our skis and getting into everything. We set up camp earlier than planned; a good decision, as wind blew and snow fell non-stop for the following 24 hours. | |
When the weather eventually cleared we could make out the spiky granite peaks of the Lemons behind us, and the huge expanses and big lumpy mountains of the Lindberghs ahead. I really enjoyed that day's skiing – the sky and snow were superbly beautiful post-storm, particularly so after being cooped up in a tent for a day. The rigors of pulling for hours on end were beginning to take their toll on several people, and there were tired, hungry, thirsty Lemons all round at the end of that day.
Our final day entailed more skiing and hauling through the wide open spaces of the new area, thankfully in good weather. We caught glimpses of the Watkins Mountains to our East, and as we came closer to our pick up point, we ogled the mountains that we wanted to climb in the next few days. On our penultimate break, we somehow lost our giant tub of Ibuprofen, much to the despair of those with aches and pains…how could we possibly survive without them?
The peaks of the Lindberghs were totally different to the Lemons – many were straightforward snow (or even ski) ascents. My most memorable peak in the Lindberghs was RJ's Peak. We skied most of the way up this mountain, and walked when the going became too steep. The summit offered wonderful views of the area, and we could see the spiky peaks of the Lemons in the distance (I think we all secretly missed them, even though we'd only been away from them for five days). It was bitter cold and there was a brittle wind on top – the Lindberghs were noticeably colder than the relatively tropical Lemons. Our descent involved a long ski along the top ridge of the mountain, and an interesting route down a steep crevasse field. Jim, in safe mountain-rescue mode, bristled at the latter while Dan got around the problem by doing the fastest bum-slide ever recorded. There was another short section of holes to negotiate…Dan was trailing behind and still hadn't appeared after half an hour of waiting and whistling/yelling. We eventually found him looking sheepish at the bottom – he'd found another route down.

Crumbly crumbly Lindberghs
When the day of our pick-up arrived, the weather closed in, and we were marooned for a couple of days. We kept in contact with the pilots in Iceland, but the battery of our satellite phone ran down quickly. Richard ingeniously taped together the batteries of our tape machine and religiously kept them up his trouser leg all times of day and night – this patched-up source of power worked a treat, but was a little heart-in-mouth.
After a couple of days of twiddling fingers in tents, we were ready to go home, but when the Twin Otter flew over I felt a strange mixture of great sadness to be leaving and elation that we'd had such a successful and happy trip. The Tangent expedition crew came out of the plane looking very pale and smelling very fragrant. They waved as we flew off and I envied them their spell in the wilderness; ours had been an unforgettable experience.
Back