A list of expeditions to the area is shown in an appendix.
---
Expedition advisory Centre, at Royal Geographical Society, 1 Kensington Gore, London SW7 2AR (tel: 0171 589 5466, fax: 584 4447, e-mail: eac@rgs.org). Shane Winser and friends are mines of information.


The Expedition Planner's Handbook (£12?) is a useful book, even for experienced expeditioners. There are lists of companies for expedition equipment or supplies, advice on logistics and fund raising, sources of expedition funds etc.
Greenland Fact-file(£5). Lists useful contacts and sources of information on Greenland plus details of past expeditions on the RGS database. The EAS has an extensive database of reports held in the RGS map room, the list is printed in the fact-file with leaders' contact details and the map room reference.
The RGS map room (Mon-Fri, 10am-5pm). Here you can pore over maps and reports from their large collection.

Danish Tourist Board, 55 Sloane Street, London. SW1X 9SY (Tel: 0171 259 5959). Source of useful addresses.

Derek Fordham, 66 Ashburnham Grove, Greenwich, London SE10 8UJ. He has led 20 expeditions to Greenland, the Canadian Arctic, and Svalbard.

Tangent Expeditions. Paul Walker, 3 Millbeck, New Hutton, Kendal, Cumbria. LA8 0BL. Tel: 01539 737757. E-mail: paul@tangentexp.demon.co.uk web-site: www.tangentexp.demon.co.uk Organises commercial mountaineering expeditions to East Greenland. Call for share of Twin Otter or for him to organise your expedition logistics.

Danish Polar Centre, Copenhagen. See below

Dansk Bjergklub. Dolfi Rotovnik, Solgårdsvej 5, 1. th., DK-2927 Skodsborg, Denmark. They attempt to coordinate and record mountaineering activities in Greenland!

Flugfelag Islands, Fridrik Adolfssoon, Akureyri, Iceland. Tel: +354 460 7000, Fax: 7090, Mob. +354 894 5390. fridrik@airisland.is. Because they operate most charter flights to Greenland, Flugfelag Islands have a wealth of knowledge and contacts in the Greenland 'expedition world'. They can help arrange: pulk hire, satellite telephone hire, gun and bullet hire (more convenient than hiring from UK since you do not need a licence), hire of flares.
---
LOGISTICS
Danish Polar Centre
You need an expedition permit to visit Greenland. Apply to the Danish Polar Centre, Strandgade 100H, DK-1401 Copenhagen K, Denmark (tel: 45 32 88 01 00 or 01 20, fax: 01 01). Our contact was Iris Madsen (e-mail im@dpc.dk).
We were advised to apply for a permit at least 3 months before leaving (Biomedical expeditions 6 months, expeditions to the National Park by Dec 31st of the previous year). In order to issue the final expedition permit you will need signed radio/firearms/insurance/airdrop permits.
Greenland Police
At the beginning and end of the expedition you should contact the Greenland Command (tel: +299 691911/ 691955) to inform them that you are entering/leaving the expedition area. In the event of a distress signal being picked up by Ammassalik radio, the police are the first to be alerted.
Flights
Icelandair are the only airline which fly to Iceland from the UK. Flugfelag Islands are now part of Icelandair so Fridrik can purchase your tickets for you. Otherwise 172 Tottenham Court Road, London. W1P 0LY. Tel: 0171 388 5599, e-mail: london@icelandair.is.
Airdrops and Glacier Landings
To be allowed to make airdrops or landings in Greenland we had to obtain permission from the Civil Aviation Administration (contact: Mette Clemmensen) PO Box 744, Ellehammervej 50, DK-2450, Copenhagen SV, Denmark. Tel: +45 36 44 48 48, Fax: 03 03. mecl@slv.dk.
Plane Charter is the most expensive part of the expedition. There are several ways to reduce this cost:
Group size: 8 people (or multiples of) is the most economical, unless you want to try squeezing another person in (pretty tight!). The payload of a Twin Otter with skis to the Lemon Mountains is 700Kg out and 1000Kg back. The payload of a Piper Chieftain (air-drop) to the Lemon Mountains is 500Kg. This was just enough for ourselves, our food and equipment. We didn't skimp on food like 9 person expeditions.

Sharing with other groups: Contact Paul Walker or Fridrik at Flugfelag Islands. If another group flies back as you fly out you can split the cost

Flying to/from the coast: There is an airstrip at the coast at Sodalen (68o13'N, 31o23'W). A Twin-Otter without skis is cheaper and has a larger payload. However it took Steve Brailey's expedition 6 days to walk out to the coast, so we decided we would rather have the extra climbing time.

Landing sites: We had planned to land on the Hedgehog Glacier, however the pilot wanted to land on the Cocker Glacier (in July 1998 the Hedgehog and Chisel glaciers were too crevassed to land on). This year both the Hedgehog and Chisel glaciers looked fine for plane landings; however we had to ski to and from the Cocker glacier which took 8 hours out and 11 hours back.
Airdrops
Dinner Sir? How about some tuna-and-blackcurrant-jam-mash with mayonnaise-and-chocolate-powder sauce?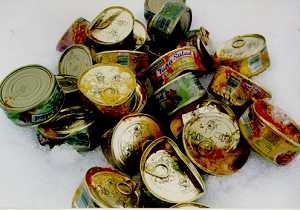 Radios
You will need at least an "emergency radio beacon (personal locator beacon - PLB) capable of transmission on 121.5MHz and/or 406MHz with a 121.5MHz homing device for continuous transmission using an internal power supply for at least 24hours at an ambient temperature down to -20˚C."
You will need a radio permit for any sort of radio or beacon, the forms are provided by the DPC and the fee is DKK500 (Soeren Lynge, Radioadministration, Post Office 1002, DK-3900, Nuuk. Tel: +299 323120, e-mail: sly@tele.gl)
It is worth hiring a satellite telephone
A telephone will allow you to contact the plane or boat or plane due to collect you, and establish that the conditions are suitable to land. We nearly lost £5000 because the weather was closing in as the Twin Otter landed, which would have forced them to make another journey

In the event of an emergency you will have confirmation that the rescue group is coming, and you will be able to describe the problem and degree of urgency to your rescuers
We were not able to find a company to lend us a satellite telephone in the UK, however at the end of the expedition (!) Fridrik from Flugfelag Islands said he thought he would be able to hire one to us.

Sea Freight
We shipped our freight to Iceland, delivered direct to Isafjordur. We found two companies who freight to Iceland:
We used Samskip, The Maltings, Silvester House, Silvester Street, Hull HU1 3HA (tel: 01482 322399, fax: 229529).

The other company is Eimskip whose UK agents are MGH Ltd. Middle Platt Road, Immingham, South Humberside. DN40 1AH (tel: 01469 571880).
There are other shipping companies, however they mostly sell space on these ships plus a commission. 6-700Kg of freight will cost ≈£250 one way, insurance is 1% of its value.

Guns
Expeditions to the Greenland National Park (N Greenland) are required to bring firearms and polar bear deterrents. Within the National Park a firearms licence is mandatory, outside the park a licence is only needed for expeditions of over 3 months.

Licences are issued by the Chief Constable, PO Box 1006, DK-3900 Nuuk, Greenland (tel: +299 21164, fax: +299 24194). The permit costs DKK840 for semi- or fully automatic weapons, otherwise it is free.

We hired a gun from Flugfelag Islands, however it is debatable whether we needed one. Polar bears are usually found on the coast where they can find food (seals rather than humans?). Since we were not skiing to the coast there was a very low chance of seeing one. In 1996 we did not take a gun.

Insurance
The Danish Polar Centre issues a statement which you have to persuade an insurance company to sign. They require Search and Rescue insurance for the expedition as a whole of DKK500,000 (DKK900,000 inside the National Park) and in addition require air ambulance cover for DKK250,000 per person. The companies we approached were the following:
AON Risk Services, Richmond House, College Street, Southampton, Hampshire, SO14 3PS (tel: 01703 225616, fax: 631055). They have a special expeditions insurance scheme, but only for RGS approved expeditions. They wouldn't insure us. The cover is comprehensive and their quotes are normally quite cheap.

British Mountaineering Council, 177-179 Burton Road, Manchester, M20 2BB (tel: 0161 445 4747, fax: 4500, e-mail: office@thebmc.co.uk). Unfortunately their search and rescue cover is currently £20,000 per person: this is not enough for the DPC. To get around the problem you sign an agreement with the insurers to accept liability for rescue costs over £20,000 each. Unless you are far north it is unlikely that any rescue operation would exceed this amount.

Harrison Beaumont (linked to West Mercia Insurance), 2 Des Roches Square, Witan Way, Witney, Oxon. OX8 6BE (tel: 01993 700200, fax: 700502) e-mail: info@hbinsurance.co.uk, web: www.hbinsurance.co.uk. We took their policy, which covered us fully and seemed good value for money.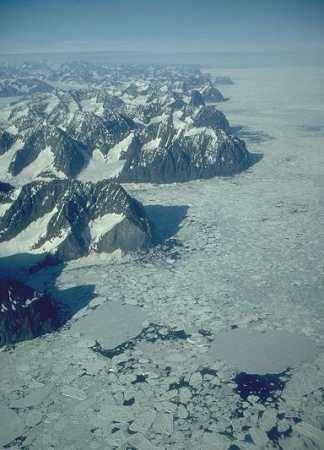 Maps and Aerial Photos
These can be purchased from The National Survey and Cadastre, Rentemestervej 8, DK-2400 Copenhagen NV, Denmark (tel: +45 35 87 50 50, fax: 50 51, e-mail: kms@kms.min.dk).
The main map series (Dansk Geodaetic Survey 1:250 000) was surveyed in the 1930s with little change since then, so they are pretty inaccurate. The area is covered on 68 Ø.3 Kangerdlugssuaq. Amazingly enough you can also buy them from Stanfords in London (tel: 0171 836 1321)
Aerial photographs of the area were taken in August 1981 and are good, however the lens used is quite wide angle so mountains near the edge are distorted. We used photographs 778 and 396 in the 68 Ø.3 Kangerdlugssuaq area.
We laminated our maps in A4 sheets (back to back), to stop them disintegrating.
Magnetic declination is a huge 35oW in East Greenland!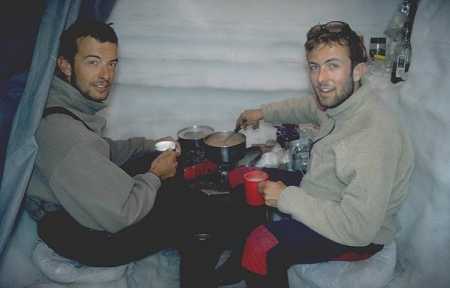 Stoves and Fuel
We took MSR Whisperlite and XGK stoves and a Coleman Duel Fuel stove. We ran them off unleaded petrol bought in Iceland. Given all the hype surrounding MSR stoves they are pretty crap compared to the Coleman stove! The Coleman stove seems to have everything going for it:
You do not need to prime it (I'll repeat that). YOU DO NOT NEED TO PRIME IT!!

It's flame is about twice the size of any MSR and boils water much more quickly

You can turn down the flame to simmer

Andy's 9 year old Coleman stove did not break down but all the MSR's did
Why did I buy an MSR?? The joke went something like, "MSR stoves are really nice and simple to take apart… because you need to"

We used Aviation fuel in 1996, however the stoves were constantly getting blocked. Steve Brailey's group had the same problem last year. Unleaded petrol worked much better. The fuel was air-dropped in Sigg bottles. This was the second time the sigg bottles had been air-dropped; again none of them broke. We took 1L of fuel per day for the whole group, but this was not enough to melt snow with. We got around this by melting snow in barrels in the sun. I would recommend 1.25-1.5L per day for 8 people.

For 8 people we only needed 2 stoves, 3 3L pans (and occasionally a 2L pan) to cook our menu.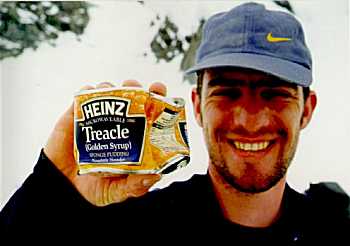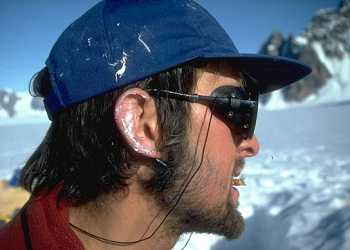 Food
We were lucky to be given nearly all our food for free. We are very grateful to the following companies who supported us:
| | |
| --- | --- |
| Company | Items |
| Van den Bergh Foods | Free Flora, Pepperami, Batchelors soup, Saucy Spuds |
| Crediton Milling | Free food bags |
| Mars | Free Mars and Snickers |
| Cadbury | Free Time Out, Fuse and Boost |
| RHM Foodservice | Free McDougalls main meals, pasta, soup, filter coffee, Robinsons Jam, dried potato, dried milk |
| Windmill Foods | Free museli, porridge, dried fruit, rice |
| Jordans | Free museli, Fruseli bars |
| McVities | Free biscuits |
| Heinz | Free steam puddings, Ketchup, mayonnaise, John West fish, John West corned beef |
| Best Foods | Free mayonnaise, pasta, tinned tomatoes |
| Premier Brands | Free Cadbury's drinking chocolate, powdered milk, dried potato |
| Simmers | Free oatmeal biscuits |
| Kavli | Free primula |
The remainder of our food (mainly beer!) we bought from Cash and Carry.
The expedition menu is in Appendix 3, I have adjusted it slightly because we had too much food (must be a first)! We actually burnt some at the end of the trip. I like food, so I made sure we had enough.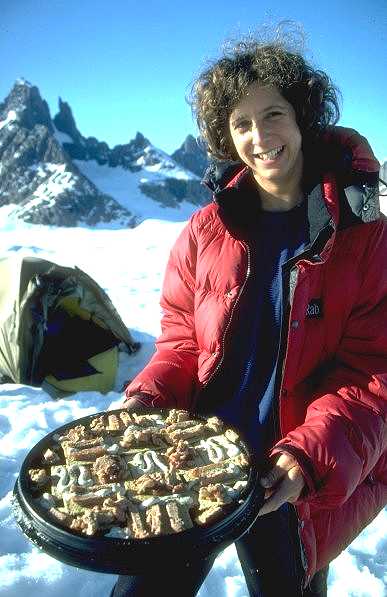 ---
KIT REPORT
A list of equipment taken on the expedition is given in an appendix.
We are very grateful to the following companies for supporting our expedition:
| | |
| --- | --- |
| Supplier | Item |
| Rab Carrington | Trade Price down/duvet equipment |
| OSC | Trade Price Mountain Equipment clothing and sleeping bags |
| Dalloz Fall Protection | Trade Price Troll/Grivel equipment |
| North Cape | Free thermal underwear |
| Patagonia | 30% discount on clothing |
| New Heights, Edinburgh | Discounted equipment |
| Jaques le Trappeur, Mulhouse | Trade price equipment |
| HQ & Sig. SQN Royal Marines | Free first aid equipment, loan of climbing equipment, first aid and crevasse rescue training |
| Free Heel Ski Co., Glenmore | Discounted ski hire |
We were delighted with the clothing and equipment they supplied, which is reviewed below.
Camping Equipment
Tents
We took three Terra Nova tents (Quasar, Quasar etc,. Super Quasar) and a North Face West Wind tent. All had snow flaps added. In 1996 we had quite serious blizzard conditions, with strong winds and enough snow to completely bury the tents. As a result we recommend the following features:
Geodesic design. This prevented the tents collapsing when buried in snow.

Spacious. We slept 2 to each of these tents, so it would be comfortable to be tent bound. Being able to sit up is nice

2 entrances. Usually one side of the tent gets buried first.
By hollowing out the snow underneath the large bell end of the quasar etc. you could actually close the inner tent before you stepped outside

The tents were not tested by the weather this year. All performed well, however we preferred the Terra Nova tents to the West Wind for their strength.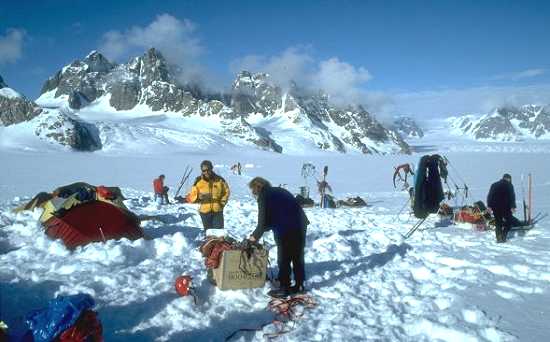 Ground Mats
Although they are expensive, Therm-a-rests are indispensable when camping on snow and ice. We have found even the thickest Karrimats feel cold and get condensation on snow. Under tents where someone has slept on a Karrimat there are pits where they have melted the snow, compared to Thermarests where you end up on a snow platform!
Sleeping Bags
Because of our trade price deal with Mountain Equipment, there were 7 ME bags on the expedition. 5 people had Icelines and 2 had Snowlines (I used a snowline with a thermal liner). The Icelines were clearly a superior bag, however sometimes they were too hot! Because we tended to climb during the night we slept during the day, when tent temperatures reached 30 C. Everyone was very pleased with their bag.
Sarah took an old synthetic Ajungilak 4-season bag which looked as if it had lost some of its seasons. It worked fine with a thermal liner.
Bivvy Bags
In bad weather, the inner and fly sheet of the tent can be pressed together by the weight of snow. Moisture in the tent from its festering occupants condenses on the inner tent and drips onto you. For this reason we took bivvy bags (Goretex and Pertex). However we didn't use them this year.
Bivvy bags are useful on short ski tours instead of taking a tent. Rupert and Tim used them on their way to the Smurf.
Mess Tent
Made by Steve Fisher and designed to be large but lightweight: it has no poles. We dug a 2m deep pit, which was 1.5m wide by 3m long. Snow bench seats ran along the hole and there was a sloping entrance at one end. The tent was just a roof with lightweight ripstop nylon walls (1.5m high) held up by 50cm snowflaps and 12 guy ropes.
We stuffed shopping bags with the foam packing to make warm seats.
This formed a very friendly (!) communal room which got hot from the sun and from the stoves. It kept the chefs warm when they were cooking and was a shelter in bad weather. I don't understand why these tents aren't more widely used.
Snow remover. The disadvantage of a flat topped tent is that in bad weather, snow builds up on the roof, which eventually makes the tent collapse. It is very difficult to dig the snow off the roof without falling in! To overcome this we took another nylon sheet the size of the roof, with handles at either end, which we placed over the tent. When the roof had 6" of snow on, you simply lifted off and replaced the sheet.
Pulking and skiing equipment
Each expedition member had a sledge, rather than taking rucksacks for load carrying. We took 3 Snowsled sledges, 3 Fjellpulken and 2 large plastic sledges.
Snowsled (260 litres). These were the sledges of choice. They were the largest and strongest and had the best harnesses. The metal traces fix directly into the harness rather than via a clip. This means the sledge doesn't jolt you as much as you walk along. The sledge bags are closed with a zip so you can seal out bad weather. The sledges have carrying handles on the side so you can more easily carry the sledge over meltwater streams.
Fjellpulken (180 litres). We didn't rate these as highly as the Snowsled, missing the features above. However they are still decent sledges. Their two advantages are that the runners on the sledge are the same width as your skis so it is nice to follow in their tracks and because the sledge trace is clipped to the harness the sledge 'locates' more easily in the tracks you are following.
Plastic Sledges (150 litres?). I had forgotten how awful these are. Fibreglass sledges have solid metal traces attaching you to the sledge, but these had string. This meant they would 'run away' downhill, either hitting you in the back of the leg or would career off into crevasses. They are obviously much lighter than fibreglass sledges, so they may be better if you are walking to the coast since you can carry or burn them. The 1998 Lemon Mountains expedition (Steve Brailey) designed solid traces for plastic sledges which worked well.
The sledges doubled as wardrobes and drying racks at camp, by propping up the traces with your ski poles.

Hiring Sledges. Sledges are not cheap, so we looked long and hard for places to hire them. You need to ask early as the sledges may be stored in another country and groups tend to hire them well in advance.
Arcturus Expeditions hired us Fjellpulken sledges at £40 each. Conveniently for us they were kept with Flugfelag Islands in Akureyri. Catherine Cartwright, PO Box 850, Gartocharn, Alexandria, Dumbartonshire, G83 8RL (tel: 01389 830 204)
Fridrik at Flugfelag Islands has several sledges to hire from Akureyri
British Schools Exploring Society, 1 Kensington Gore, London SW7 2AR (tel: 0171 584 0710)
Snowsled. Sometimes they have sleds for hire.
Ortilieb bags. These rubberised rucksack liners made perfect sledge bags. The sledges got wet inside during bad weather and these bags kept our spare clothes dry. The bags have a special closure system and are made from heavy-duty material which makes them completely waterproof, even if immersed in water. Several people had a 100L bag (£20).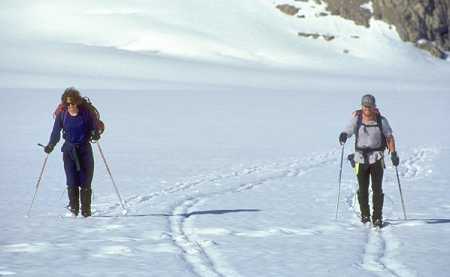 Skis, Skins and boots
3 expedition members used Asnes Sondre Telemark Skis with Rotterfeller 3-pin bindings, the other 5 used similar metal edged telemark skis hired from the Free Heel Ski Co at Glenmore (01479 861253) with a Salomon SNS cross-country binding. Both were fine.
Rupert's skis had fishscales which allowed him to ski up moderate inclines. Because he didn't have to stop to put on skins or wax, he moved faster on the way to the climb.
We had two types of skins: a narrower 35mm version with a metal clip at the front and a wider 45mm type with a clip at the back and a rubber clip at the front. Although the latter type sounds more secure, snow forced its way down the front of these skins and they came unstuck more easily. In addition we found 45mm to be too wide - the grip provided by the 35mm skins was adequate, and they were easier to slide forward - so you could ski faster and with less effort with the narrower skins.
We used the Royal Marines Wax system: wet and dry! This is simple to use and cheap (available from most Army Surplus stores)
Snow Shoes
Several expedition members felt they would have been more in control on steep crevassed glacier in snow shoes rather than skis….
Climbing Equipment
We didn't want to be restricted to certain routes because we were short on gear, so we took fairly large racks. Per climbing pair:
| | |
| --- | --- |
| Item | Number |
| 50m ropes 9mm | 2 |
| Wires assorted 1-10 | |
| Assorted Friends/Hexes | |
| Extenders | 9 |
| Slings 8ft | 4 |
| Slings 4ft | 2 |
| Pegs assorted | 5 |
| Ice Screws (screw-in/drive-in) | 3 |
| Deadman | 2 |
Members also brought an Alpine Harness, 2 screwgates, belay device, long and short prussik, 2 climbing axes, crampons, rock boots, chalk bag and helmet
In addition the expedition took 200m of ab tat, and 2 50m 10mm ropes
Although there is plenty of extreme rock in the area, most of our climbing was on ice/snow. Given the size of the routes (up to 30 hours), it was important to make good progress so we normally opted for snow routes where we could move together.
Given the time spent on snow, we usually climbed with one rope, so we could have managed with six 9mm ropes between us. Since we found ice routes up to V, Vertige axes are a good idea for this area: we used Mountain Technology, Grivel and Charlet Moser vertige axes, all of which performed excellently. Most people took Grivel 2F crampons, which were fine, except for the usual balling up problems; for the hard ice, Grivel Rambo crampons (or equivalent) would have been better.
200m of abseil tat was only just enough for the routes we climbed. Another 50m would have been better.
Amongst the rock gear, Andy's Cam-o-lots were much admired. Because they compress much more than Wild Country friends, you need less Cam-o-lots to cover the same range of crack sizes. Of course they are much more expensive!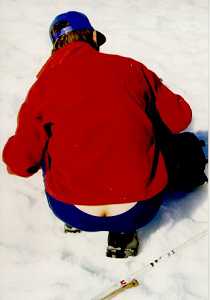 Personal Kit
Clothing
Because different people have their favourite clothing system, everyone took what they were used to. Clothes suitable for Scotland or the Alps are fine for Greenland, If anything it is warmer than you expect! A full personal kit list is given in an Appendix.
We were given thermal underwear by North Cape. We were delighted with its performance. It is quite thick so several people wore it like a mid-layer garment, much better than a cotton T-shirt.
Rucksacks
Because we didn't need rucksacks for load carrying most people used 50L Alpine sacks such as the Berghaus Ice Star. It was nice not to have to carry the extra weight of a large sack.
---
WEATHER LOG
In 1996 we had 16 days of tent-bound weather during 8 weeks: this included several rather nasty blizzards. We had snow this year although it wasn't as heavy; however we had 8 tent bound days out of 4 weeks. The weather was closing in as we were collected from the glacier, so we nearly had 11 days bad weather!
According to folklore, the early summer in Greenland is more stable than the late summer. Several successful expeditions have visited this area from mid-May (eg. Bonington '93). We were advised that generally the latest time to visit the area is mid-August, after which the weather begins to deteriorate. However our expedition to Schweizerland in 1996 lasted until the end of August; we had our best weather then.
TB – Tentbound, R – Rest Day
| | | | | | |
| --- | --- | --- | --- | --- | --- |
| Date | Weather | Activity | Date | Weather | Activity |
| Jun 12 | Bad | Iceland | Jun 26 | Sun, wind (pm) | Peak 11 |
| Jun 13 | Bad | Iceland, (Peak 1) | Jun 27 | Sun | R |
| Jun 14 | Bad | Iceland, (Peak 2) | Jun 28 | Sun | Peak 12,13 |
| Jun 15 | Bad, Clearing | Iceland | Jun 29 | Sun | R |
| Jun 16 | Sun | To G'land | Jun 30 | Hot | Peak 14,15 |
| Jun 17 | Sun | Ski to H'hog Gl. | Jul 1 | Hot | Peak 16 |
| Jun 18 | Sun | Peak 3 | Jul 2 | Hot | |
| Jun 19 | Sun | R | Jul 3 | Sun | Peak 17,18 |
| Jun 20 | Sun | Peak 4,5,6 | Jul 4 | Sun | Peak 19 |
| Jun 21 | Cloud then snow/wind | R | Jul 5 | Sun | R |
| Jun 22 | Snow then cloud/clear | TB | Jul 6 | Sun | Ski to C'ker Gl. |
| Jun 23 | Cloud then snow | TB | Jul 7 | Sun | R |
| Jun 24 | Cloud then sun | Peak 7 | Jul 8 | Cloud then snow | Fly out |
| Jun 25 | Sun | Peak 8,9,10 | Jul 9 | Bad? | Iceland – UK |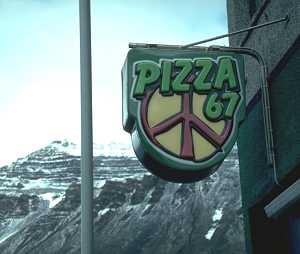 We were stuck in Iceland at the beginning of the expedition because of bad weather in Greenland. We were nearly unlucky at the end of the expedition, since the weather was closing in as we were collected. A few hours later and the plane would not have been able to land, which would have been very expensive for us (£5000). For this reason it is worth taking a satellite telephone!
The spell described as 'hot' was a low/warm front with no cloud. The temperature at night didn't drop below 3/4oC so the snow became very heavy and soft. As a consequence there were many avalanches and it was unsafe to climb. We did attempt a rock peak, but abandoned the attempt on unstable snow on the approach.
The climbing conditions changed during the expedition. Several gullys we were hoping to climb lost a lot of snow and went out of condition during the expedition. However they may have been replenished by the bad weather just after we left.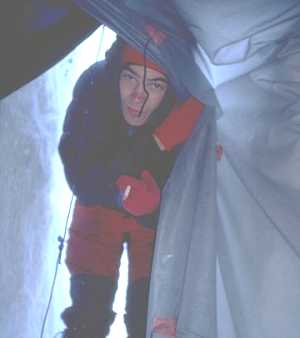 ---
MEDICAL REPORT
Sarah Walmsley
As expedition medic there is a certain feeling of responsibility for the health of the group. This was in part allayed by the knowledge that Andy and Dan had some basic first aid and by a training weekend with the Royal Marines. There – much to my amusement and to Rupert G's horror – Richard, Tom and Rupert were instructed in the art of cannula injection. Whilst Richard won the prize for the number of attempts, Rupert's near fainting provided the most entertainment of the day. The experience was missed by Tim and Danny (working), Rupert G (bumming around) and Andy (slagging). At least we now knew who you would rather be injected by, and where the other members commitments lay.
Fortunately the most challenging medical emergency proved to be 2 sprained knees. This was despite at least 2 near misses – one direct rock hit and some incidental 20m climbing fall…
---
Top
Back
Next